5lb Professional Grade Replacement Marking Chalk For Chalk Boxes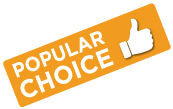 Ordering by Phone? Make sure you have the right product. Check the SKU tab below.
Product SKU List
These are the SKU numbers to give if you plan to buy over the phone. To see pricing changes (if any), click on the "drop down" arrow in the Add to Cart section above.
| PRODUCT | SKU |
| --- | --- |
| 5 lb White | 105w |
| 5 lb Glo-Orange | 105go |
Our fine granular marking chalk is a high quality chalk box replacement powder that is designed to work every time. This is a general marking chalk that is perfect for line striping professionals or anyone needing bulk marking chalk.
Our most popular seller is the 5 lb bottle. Professionals who use a 100' or longer chalk line, tend to go through a lot of chalk and our 5 lb bottle is the best bang for your buck.
We currently only offer White and Glo-Orange (Fluorescent Orange) so if you're interested in a different color, call us and give us an idea of the color you prefer: +1(800) 689-2098 or drop us a line in the product question area below.
Replacement Part Compatibility List
The following products are compatible with this replacement or add-on part.
Have a Question? Get an Answer!
Ask a question about this product and get a response back in the same business day.
(We usually respond within an hour)
Shipping Dimensions
Dimensions:
7 in × 7 in × 11 in