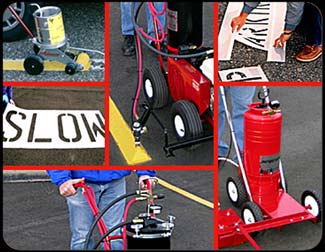 Asphalt Striping And Pavement Striping Equipment Is Our Specialty
As a Sealcoating and Paving Professional, you will also be re-painting and re-striping pavement after the sealcoat process.
We offer a full line of Asphalt Striping and Pavement Stencils to fit nearly any budget and any Pavement Striping application.
We offer Newstripe systems because, in our opinion, they offer the very best Pavement Striper in the industry for the money.
Newstripe is a comprehensive product design and manufacturing company with over thirty products being produced. The Newstripe manufacturing facility is designed to provide products to virtually any mid-tech industry. Located in Aurora, Colorado they are AMERICAN MADE and proud of it.
Watch our Rollmaster video
---
---
They are an American manufacturing company with a very simple goal: to help solve our customers' problems by providing new, innovative products that include a full line of Asphalt Striping Systems at a price that you can afford.
We offer several Pavement Striping machines through this website and you can call our toll free number to speak to an Asphalt Striping professional.
Our Rollmaster 5000 is by far our most popular because of its excellent price, ease of use, excellent warranty and creates no overspray.
Our NewAero (Not Pictured) is our economy sprayer using aerosol cans.
---
Rollmaster 5000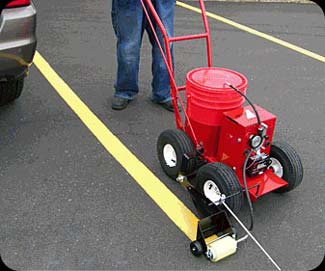 The Rollmasters are simply the easiest paint striping machines to use. In just a few minutes anyone can learn to stripe parking lots, warehouses or playgrounds like a pro. Plus, the Rollmasters beat expensive, gasoline-powered paint striping machines hands down.
The Rollmaster Paint Striping Machines:
Are less expensive to buy
Are less expensive to operate
Are less expensive to maintain
Paint a better quality line with sharper edges
Create no over spray so you can safely stripe within three inches of cars or other obstacles.
Our Rollmaster Paint Striping Machines Feature:
Stripe Anytime, Anywhere — The environmentally friendly Rollmaster paint striping machines are quiet and do not generate gas or exhaust fumes. Being noiseless makes them the perfect choice for night jobs or quiet areas such as hospitals.
Warehouse and manufacturing managers will find the fume-less Rollmasters perfect for keeping their aisles and danger zones clearly and safely striped.
Easy Cleanup — The Rollmaster's unique peristaltic pump "squeezes" the paint through the delivery hose, so no paint contacts any pump component. This coupled with the disposable paint roller and hose makes clean up quick, usually taking less than five minutes.
Easy to Use — You no longer have to depend on outside contractors and their scheduling to do your striping. Use your own personnel on your own schedule. Just set a 1-gallon can or 5-gallon pail of paint on the Rollmaster Asphalt Striping Machine, attach the hose and roller and you are ready to start striping.
Economical to Own — Costing only a fraction of what larger machines do, there is no expensive engine, pump or spray gun to maintain or replace.
Use any Paint — They work great with environmentally safe latex and low VOC striping paints. Most traffic paints can be used without thinning.
No Over-Spray — Safely stripe parking lots and warehoused within inches of cars or other obstacles.
Replace that Aerosol Striper and Save — Using bulk paint, the Rollmaster Paint Striping Machines can save up to 75% in material cost compared to an aerosol can type striper. Plus, the troublesome and expensive disposal of hazardous aerosol cans is eliminated.
Longer lasting lines — Using industrial quality traffic paint with the Rollmaster striping machines will give you heavy, consistent lines with crisp edges that last up to eight times longer than lines painted with aerosol striping machines.
Economical to own and use — The Rollmaster Paint Striping Machines cost a fraction of a gas powered paint striper. No gas, no oil, no expensive engine, pump or spray gun to maintain or replace. Plus, The Rollmaster Paint Striping Machines have 100% transfer efficiency so all the paint stays on the surface.
18-month warranty — Longest warranty available.